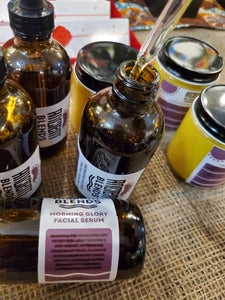 Gift Ideas 🛍 
Morning Glory Facial Oil
Use it as a moisturizer
but think of it as a serum.
This one is time tested to be favorable to most skin types (my 32 and 34 year old daughters swear by this moisturizer!)
FOR THE FACE
Facial skin, one of the most sensitive areas of our body, is a bit different from the rest of your skin. It is rich in sebaceous glands that secrete sebum, the natural lubricating oil of your skin, which can trap dead skin cells and dirt causing skin blemishes. The cells making up the epidermis of the face are finer and rich in pores meaning less of a barrier to environmental chemicals and more prone to water loss.
What does this mean for you?
Use natural soap to gently cleanse away dirt without washing away precious natural oils. Gently exfoliate to remove dead skin cells and unclog pores. Moisturize with wholesome natural facial care products. A healthy complexion begins with a healthy life style and healthy skin care products.
Antioxidant treatment oil packed with naturally occurring Nutrients, Vitamin C and an Essential Oil blend designed to help with anti-aging and skin clarity. Great for all skin types, useful for moisturizing and anti-inflammatory properties.
Morning Glory stimulates skin cell regeneration, smooths aging or maturing skin through proper moisture balance and brings renewed elasticity.This facial oil/serum can also be used to help relieve eczema and psoriasis symptoms .
Ancient Blends 'Morning Glory' provides your face with the ultimate protection from environmental pollutants while brightening, nourishing and conditioning your skin. Ylang ylang, one of nature's most magical extracts, a medicinal plant valued for its antiseptic and regenerative qualities, is combined with five herbal extracts to help calm and soothe the skin. It can be used as face, hands or dryness treatment cream May be used on all skin types, including sensitive, oily and problematic skin.
Although aging is a natural process of life, we are constantly bombarded with commercials that promote products to eliminate the signs of aging and make us feel sad about getting older. I celebrate my maturity and honor the graceful, wisdom as this journey continues. I do not want to fill in my laugh lines or get rid of all the facial imperfections that tell my story. I just want to maintain my healthy skin. As we age our skin becomes drier. A gentle facial massage with a good moisturizer improves circulation, promotes hydration and helps protect delicate facial skin. My moisturizer contains nothing artificial, nothing synthetic, just simple, natural ingredients that are easily absorbed and allow the skin to breathe.
If you have extremely dry skin, I suggest drinking more water and applying my moisturizer 2x's daily until you notice an improvement.
Liquid Description:
My facial moisturizer lightly re-hydrates your skin, protects it against the sun's harmful rays, and helps to nourish prematurely aging skin. It works by creating a barrier between your skin and the pollution in our atmosphere, bacteria and makeup. It re-hydrates the surface skin cells, stops moisture loss, leaving your skin with a smooth, soft, youthful feel and appearance.
Ingredients:
I formulated this blend with lavender, Ylang ylang, vit E, Vit D, vegetable glycerin, and fruit oils.
Instructions:
I apply my Morning Glory moisturizer every morning after cleansing your face and while my face is still wet. This moisturizer may also be use for outdoor cold weather protection. Also use it on other areas of your body that may need a little extra TLC.
Additional Info:
Use it as a light, silky sun, wind and cold weather protective moisturizer. In addition, it dramatically decreases acne and over time you may notice signs of old acne marks fading from your face. These ingredients combined with vegetable glycerin, herbal moisturizers and a natural PABA free sunscreen, help re-hydrate, while protecting your skin from signs of premature aging and wrinkling due to dry skin and sun exposure. It is non-irritating and non-greasy.
NOTE: DRY SKIN CAN BE A DIETARY ISSUE, PLEASE FEEL FREE TO CONTACT ME FOR HEALTH CONSULTATIONS. THERE WILL BE A FEE FOR THAT SERVICE.

For Holistic Wellness Consultations: http://www.cowrieshell.com